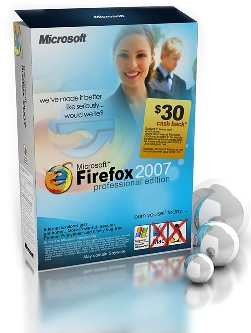 Algunas características de este navegador 😛 :
RSS (Real Simple Sex): RSS is a relatively new algorithmic technology fueled by the continued hot desires of many online web users. Accessed by an illuminating an icon on the toolbar - a single click allows you to view and optionally download anything that resembles a tit, a boob or a breast - rendered directly in the browser with speeds up to 10 times faster than the competition. Real Simple Sex can scan and arrange explicit images/pictures in order of quality and effectively filters out irrelevant content such as balloons or soccer balls.
3rd Party Opt-in:
Disables nearly all pre-installed non-Microsoft software to prevent potentially vulnerable controls from being exposed to attack. You can easily enable or disable required programs as needed through the Add-on Manager by using any valid credit card.
Security Status Bar:
Enhances awareness of website security and privacy settings by displaying color-coded notifications next to the address bar. Microsoft Firefox changes the Address Bar to green for websites bearing the Microsoft Partnership Certificate, indicating the site owner has completed extensive identity and friendship verification checks. Googling Filter notifications, certificate names, and the gold padlock icon are now also adjacent to the address bar for better visibility.
Googling Filter: Proactively warns and helps protect you against potential or known fraudulent sites such as Google.com, blocks the site and shuts down your computer if necessary. The filter is updated several times per hour using the latest security information from Microsoft.
...
Fuente: http://juanpe.lugcix.org/?p=52